Source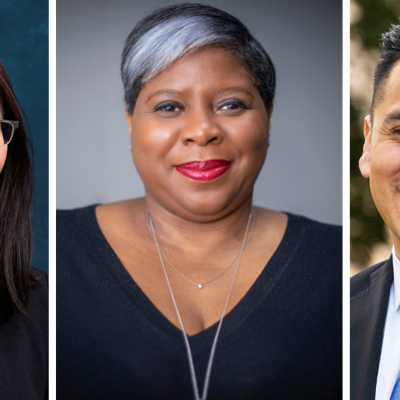 The first Nonprofit Trailblazers Awards celebrate leaders who have dedicated their lives to making New York a better place. These pioneers have embodied the principles of charity, diversity, environmentalism, sustainability and governance. Their entrepreneurial character, high standards and innovative professional practices have helped their organizations as well as New York City and state. New York Nonprofit Media, a sister publication to City & State New York, is proud to honor the 2023 Nonprofit Trailblazers. 
The following bios were submitted by the honorees and have only been edited for length.
Ron Abad
CEO and Executive Director, Community Housing Innovations
Ron Abad is the CEO of Community Housing Innovations, a housing provider serving thousands of families and individuals in Long Island, Westchester, Hudson Valley, and New York City. As a major leader, powerful speaker and thought leader in the housing space, Ron has over 25 years in executive leadership positions in nonprofit and government, previously serving as SVP at Acacia Network; COO at Urban Pathways; Assistant Commissioner at NYC DHS and Vice President at Housing Works.
A graduate of Boston College Law School and Howard University, Ron serves on the boards of the Leviticus Fund, Nonprofit Westchester, and The William George Agency, amongst a few more. Ron was listed in Crain's New York Business Notable Hispanic Leaders 2022 and 914Inc. Magazine 'The Face of Affordable Housing and Homeownership 2022. A proud father of three daughters and five grandchildren.
Leslie Abbey
CEO, Hot Bread Kitchen
​​Leslie Abbey, Esq. (she/her) is an organizational leader and entrepreneur who has committed her career to supporting families and youth, social justice, and data-driven strategies to improve social service outcomes. She is currently CEO of Hot Bread Kitchen, an organization that promotes women's economic mobility utilizing the vibrant New York City food industry as a catalyst, overseeing its strategic plan to support 1,000 breadwinners by 2025.
In 1997, Leslie co-founded Family Legal Care (formerly LIFT), which provides legal information and support to 30,000 Family Court litigants annually. In 2022, Leslie co-founded, and now serves as Chair of the Board of Directors of, Anthos|Home, which is working with partners to transform the City's housing voucher system.  Leslie is also a member of the Board of Managers of Swarthmore College, Board of Trustees of New York University School of Law, Board of Trustees of JCCA, and Women's Forum of New York.
Lymaris Albors
CEO, Acacia Network
Lymaris Albors is the CEO of Acacia Network, a leading nonprofit provider of integrated health, housing, social services, economic development, and cultural revitalization programs. Leveraging her significant acumen in program management, capacity building, quality improvement, and strategy design, Lymaris is responsible for cultivating and expanding Acacia's partnerships across the public, private and nonprofit sectors to build on the organization's legacy and carry forward its mission. In addition to her work at the helm of Acacia, Lymaris serves on the boards of the Legal Action Center, Casabe, and Blythedale Children's Hospital.
MaryBeth Bergren
Family Educator, INCLUDEnyc
MaryBeth is a Family Educator at INCLUDEnyc. As a native Staten Islander, she has over 12 years experience in higher education and is actively involved in the disability community, currently acting as co-chair of the Staten Island Disability Council's Education Committee. As a mother of two neuro-diverse children and an adjunct professor at The City University of New York, MaryBeth brings both professional and personal experience to her role. She joined INCLUDEnyc in 2020 with an aspiration to help families, like hers, navigate the challenges and barriers of the special education and disability systems.  MaryBeth holds a Bachelor's in Communications with a minor in Musical Theatre from the State University of New York at Cortland and a Master's in Business Communication from JIU. MaryBeth is passionate about making positive change in the special education mindset and believes strongly in the inclusion of all students in the classroom and community.
Wanda Carter
Chief Operating Officer, Highbridge Advisory Council Family Services Inc.
Ms. Wanda Carter was born and raised in the Bronx, where she attended Morris High School before matriculating at Excelsior University where she obtained her Bachelor's degree and MPA. With her experiences living in the Bronx and seeing firsthand the need to build a better child care system, much of her early years were centered around Early Childhood Education, where she functioned as a classroom instructor, and later as an administrator. Ms. Carter continued her career as a nonprofit professional to assist in providing better services for children and to the community. After dedicating over 20 years in Early Childhood Education, Ms. Carter was appointed as a Community Board Member. Known as a woman with a world of information and knowledge, Ms. Carter also holds the position as a Chief Operating Officer at Highbridge Advisory Council Family Services, Inc. (HACFS) and is the newly elected Board President of the Day Care Council of New York, as of 2023. Ms. Carter wears so many hats when it comes to our children. In her spare time, she is a doula and has coached mothers during childbirth and provided new moms with postpartum and breastfeeding support.
Melissa Clarke
New York Policy Director, uAspire
Melissa leads the strategy and delivery of uAspire's New York state and city-based higher education policy agenda and systems change projects. Before joining uAspire, Melissa was a policy associate for The Children's Defense Fund-NY (CDFNY), where she focused on a variety of education policy issues that impacted New York City and New York State's most vulnerable populations. Specifically, she focused on discipline, mental health, culturally-responsive curriculum, and restorative justice. Prior to this role, Melissa worked at the New York City Charter School Center where she worked towards building community and political support in order for charter schools to flourish in the communities that needed access to high-quality schools. Melissa received her BA in Political Science from John Jay College of Criminal Justice (CUNY) and her Master of Science in Social Work from Columbia University where she focused her work on public policy and contemporary social issues.
Josue De Paz
Co-Founder and CEO, First Tech Fund
Josue De Paz is the co-founder and CEO of First Tech Fund (FTF), a 501(c)3 nonprofit founded in 2020 that provides free technology and broadband access, mentorship, digital skills training, and insight into career pathways, while showing students the opportunities that exist and guiding them on how to attain them, equalizing the academic and professional playing fields for low-income students of color. Additionally, Josue is a 2022-2023 Obama Foundation Scholar at Columbia University, one of 30 leaders selected globally.
Originally from Cuernavaca, Mexico, Josue is a Deferred Action for Childhood Arrivals (DACA) recipient. Prior to founding FTF, Josue worked at Girls Who Code, an organization that works to close the gender gap in technology, where he managed partnerships, outreach and strategy across the southern United States. Josue was a 2021 Coro Workforce Systems Leadership Fellow and a 2022 Council for Urban Professionals Fellow.
Katie Devine
Principal, Rockabill Consulting
Katie Devine is a trusted consultant and advisor to the nonprofit housing community, working alongside her clients to increase the quality and supply of affordable, supportive, and transitional housing for vulnerable New Yorkers.
Over the course of her career, Katie has led the development and preservation of 3,500 units of affordable housing and shelter in four states. She is a leader in the application of creative financing tools and strategies to develop housing and shelter projects, including hotel-to-housing conversions, air rights sales, historic tax credits, and city-backed financing for the development of nonprofit-owned homeless shelters.
 Katie is widely recognized for her expertise and has been an invited speaker and guest at several industry forums, including the annual NYSAFAH conference, Enterprise's Housing Justice working group, and CSH's Race Initiative. She graduated with honors from Cornell University and is a member of the Board of Directors of Women in Housing and Finance.
Rachael Gazdick
CEO, New York Edge
Rachael Gazdick is the chief executive officer of New York Edge, the metropolitan region's largest provider of afterschool and summer programs. With more than 20 years' experience in education advocacy, Rachael has dedicated her career to building equity in education.
Prior to joining New York Edge in May 2019, Rachael served as president and chief executive officer of Colorado's "I Have A Dream" Foundation (CIHAD), a nonprofit organization focused on empowering children from low-income communities to succeed in school, college, and career. Over the course of her more than six years at the helm of CIHAD, Rachael grew the organization's single-class model to a school-wide program, significantly expanding the nonprofit's reach across the city.
Before her time at CIHAD, Rachael served as the executive director of Say Yes to Education Syracuse, a nonprofit community-wide partnership focused on supporting public school children attain, afford, and complete a college or other postsecondary education. In her four years at the organization, she expanded the program to 31 schools and 22,000 students.
Elizabeth Glazer
Founder, Vital City
Elizabeth Glazer is the founder of Vital City, a new nonprofit enterprise that advances practical solutions to public safety problems in New York City. Through a policy journal, special reports, data analysis and more, Vital City helps to build a safe, just, and vibrant New York. Previous to Vital City, Glazer was director of the Mayor's Office of Criminal Justice, where she focused on safe reduction of the jail population and building an infrastructure for community-led safety. Glazer also served as Deputy Secretary for Public Safety under former New York State Governor Andrew Cuomo. Earlier in her career, Glazer was a prosecutor for the U.S. Attorney's Office where she helped pioneer the use of racketeering laws to address gang violence. Glazer received her BA from Harvard University and her JD from Columbia Law School. She clerked for then-US Circuit Judge Ruth Bader Ginsburg.
Leslie Gordon
President and CEO, Food Bank For New York City
Leslie joined Food Bank For NYC in March 2020, when COVID-19 shut down the entire city. During this unprecedented moment, Leslie took immediate action by expanding and deploying food delivery to communities across the five boroughs, tripling the size of Food Bank's workforce to cope with the higher demand for food, and ensuring essential workers at Food Bank's network of over 800 community organizations were able to safely store and distribute more food to residents in need. Her leadership enabled Food Bank to distribute over 121 million meals in 2021, more than ever in a single year in the organization's 40-year history. Leslie leads the charge against chronic food insecurity by connecting New Yorkers with essential resources as they transition to financial independence and stability. With an estimated 1.6 million experiencing food insecurity, Leslie is working tirelessly to feed New Yorkers in need today and build a food secured tomorrow.
Larry Grubler
CEO, Transitional Services for New York Inc.
Larry S. Grubler, Psy.D. is the Chief Executive Officer of Transitional Services for New York, Inc. (TSINY), a comprehensive, not-for-profit mental health organization headquartered in Whitestone, New York.
In 1981, Dr. Grubler began his career working with individuals with mental illness as a counselor in a day program operated by Mercy Hospital and Medical Center.  After four years of providing direct clinical services on both an outpatient and inpatient basis, Dr. Grubler began working as an administrator of mental health programs, both overseeing programs and developing new initiatives.  In the late 1980s, he worked under both Mayors Koch and Dinkins as a Senior Consultant for the New York City Department of Mental Health, Mental Retardation, and Alcoholism Services and gained a good understanding of community participation in program development and public funding. In 1992, Dr. Grubler was hired as TSINY's Associate Director of Residential Services. At the time, TSINY had 189 beds for individuals over the age of 18 who had a primary psychiatric diagnosis.  Today, the residential programs have over 700 beds.
Anietra Guzmán-Santana
Senior Director of Youth and Family Programs, Family Service Society of Yonkers
Anietra Guzmán-Santana oversees programs serving Westchester County in the areas of academic support, licensed school-aged childcare, and kinship family services.  In the last year, Anietra has implemented a number of new programs and grants, making hers the largest and fastest growing department at FSSY.
She is Co-Founder & Vice-President of The Foundation for the Yonkers Public Library, working to elevate and support programming initiatives within the Yonkers Public Library system. From 2016 – 2019 she also served as a Trustee on the Yonkers Public Library Board.
Anietra is a community-centric leader who has taken active roles in local organizations. She is an appointed member of the Westchester County Women's Advisory Board.  Other memberships include: Community Planning Council of Yonkers, and Westchester Women's Agenda. Anietra is currently participating in Nonprofit Westchester's Emerging Leaders Program, an 11-month professional development program that expands nonprofit knowledge, leadership skills, and reach through networking.
Thomas Haggerty
Executive Director, Emma L. Bowen Community Service Center
Thomas Haggerty serves as the Executive Director of the Emma L. Bowen Community Service Center, one of the largest community-based organizations dedicated to providing accessible mental health, addiction treatment, and supportive services to the Harlem community and beyond.
With a client base comprised of the city's most vulnerable, the Bowen Center is a vital life-sustaining organization that offers a vast array of programs and services to more than 5,000 clients citywide, annually.
He has more than 30 years of management experience as a problem-solver in the private and nonprofit sectors. Since joining the Bowen Center in 2017, Mr. Haggerty has helped to steady the organization's finances by mainstreaming many of the Center programs and services and was instrumental in overseeing the conversion of over 30 years of paper-based client records to digital.
Throughout the Covid pandemic, Mr. Haggerty and his staff kept the doors of the Bowen Center open, while also initiating a telehealth program that served as a lifeline to their clients, old and new.
Baaba Halm
Vice President and New York Market Leader, Enterprise Community Partners
Baaba Halm / City of New York
Baaba Halm is the New York market leader for Enterprise Community Partners, a national nonprofit on a mission to make home and community places of pride, power and belonging, and platforms for resilience and upward mobility for all.
Baaba leads a cross-functional team delivering program, capital, and policy solutions to address New York's most complex housing challenges. Under Baaba's leadership, the New York market is developing and deploying programs that focus on preservation, homelessness, fair housing, justice involved housing, faith-based development, economic mobility, leveraging the affordable housing sector to create career pathways and supporting BIPOC developers.  Over more than 35 years, Enterprise NY has invested over $5 billion to create or preserve over 81,000 homes in New York.
Enterprise NY is also a leading policy voice working across government and with partners to advance systems change on issues including source of income discrimination, expanding rental assistance, and increasing the supply of new housing statewide.
Tom Hameline
President and CEO, HELP USA
Dr. Hameline is the President & CEO of HELP USA, one of the nation's largest housing and homeless service organizations. Tom oversees 1,600 employees who staff 54 programs and residences in nine cities across five states.
 Tom has devoted his career to helping homeless families. He is a family therapist by training and joined HELP USA in 1994 in order to work directly with homeless families in shelter. Since then, Tom has worked at every level of the organization, selected to lead after a national search in 2011. He has experience working directly with clients, developing innovative, anti-poverty programs, and building affordable housing.
 Dr. Hameline is a licensed psychologist with post-doctoral certification in family and couples therapy from the Ackerman Institute in New York. He holds a B.A. from Princeton University and a Ph.D. from the University of California, Berkeley. He has served as a Clinical Assistant Professor of Psychiatry at the NYU Medical Center, and has published scholarly articles about homelessness, family therapy, and at-risk populations.
Ann Hardiman
Chief Innovation Officer, New York Alliance for Inclusion & Innovation
Ann Hardiman is the Chief Innovation Officer (CIO) for the NY Alliance.  In this role she works closely with collaborators leading the way to new ideas to promote innovation, influence system design, strengthen the person first culture, and grow successful workforce initiatives.  From 1995 to 2018, Ann led the New York State Association of Community and Residential Agencies (NYSACRA) as its Executive Director and was integral in the association's merger that formed the NY Alliance.  Ann's professional career has centered on impacting critical issues in the field of services for individuals with intellectual and developmental disabilities. In 2011, she was appointed to the President's Committee for People with Intellectual Disabilities where she served for three years. Ann is an Advisor to the Self Advocacy Association of NYS (SANYS) Board of Directors.  In 2020, She received the honor of being recognized as an Essential Change Agent by the National Historic Recognition Project: 2000-2020. Ann holds a Master's degree in Community Psychology.
Melanie Hartzog
President and CEO, The New York Foundling
Melanie Hartzog is the President and CEO of The New York Foundling, one of New York City's longest-serving nonprofit organizations. The Foundling serves more than 30,000 people every year in the New York area and Puerto Rico and has more than 40 programs across five service lines including child welfare, developmental disabilities, education, juvenile justice, and health and behavioral health.
Prior to joining The Foundling, Hartzog served as New York City's Deputy Mayor for Health and Human Services, overseeing the city's social service agencies. She previously served as the Director of the Mayor's Office of Management and Budget, where she oversaw the largest municipal budget in the United States, responsible for funding all city programs and services for New Yorkers. Before joining the Office of Management and Budget, Hartzog served as Executive Director of the Children's Defense Fund. Previously, she served as Family Services Coordinator for the Deputy Mayor for Health and Human Services and Deputy Commissioner of the Administration for Children's Services.
Jeanette Hemingway
Director of Housing, Cares of NY Inc.
Jeanette Hemingway is Director of Housing at Cares of NY, Inc., a non-profit organization that empowers communities to end homelessness through community planning, program data, supportive housing, and awareness-building.
Tommy Ibrahim
President and CEO, Bassett Healthcare Network
Tommy Ibrahim, MD, MHA is President & CEO of Bassett Healthcare Network, an independent rural health system serving central New York State. Before joining Bassett in 2020, he served in leadership roles at INTEGRIS Health in Oklahoma, MercyOne in Des Moines, Iowa, and at St. John's Hospital in Springfield, Illinois.
Dr. Ibrahim received his Doctor of Medicine degree and Bachelor of Medical Science degree at St., Christopher's College of Medicine and completed residency at Greater Baltimore Medical Center, an academic affiliate of Johns Hopkins. Dr. Ibrahim also holds a Master's of Science in Health Administration from Seton Hall University.
A hospitalist, Dr. Ibrahim is boarded in internal medicine and hospital medicine. He is a Fellow of the American College of Healthcare Executives, Fellow in Hospital Medicine, and received the Certified Physician Executive accreditation from the American Association of Physician Leadership. Dr. Ibrahim has held numerous board positions with non-profit organizations.
Vivian Johnson
Site Director of the Beatrice Lewis Senior Center, Central Harlem Senior Citizens Centers
My name is Vivian Taylor-Johnson.  I was born and raised in Manhattan, New York.  I am a wife of thirty(30) years, a mother of four(4), and a grandmother of two(2).  I have worked with nonprofit older adult centers since the age of 22 and still going strong thirty(30) years later. I consider the older adults my family; there is never a dull moment in creating innovative activities/events for their enjoyment, and health benefit.  I dedicate my spare time to my children and assisting those in need, which is my passion for giving back to my community.
Julian Johnson
Senior Adviser, SEO
As Executive Vice President, Julian Johnson oversees all program activities for SEO Scholars, SEO Career, SEO Law, and SEO Alternative Investments, in addition to SEO's alumni programming. Julian joined SEO in 2002, bringing over twenty years of experience in development and executive leadership to the organization.
Shortly after joining SEO, Julian led the restructuring of all intern recruitment and training activities for SEO Career, resulting in a 40% increase in the rate of full-time job offers made to summer interns. In the early 2000's, Julian also led the development of a corporate leadership internship track which provided opportunities for underrepresented students to intern at Fortune companies. He restructured the law internship track and the development of an intensive Law Institute to enhance the academic performance of SEO Law Fellows in their first year of law school.
Dominique Jones
Executive Director, Global Kids
Dominique R. Jones has dedicated her over 25-year career to the positive development of young people.  She continues this commitment with her 2021 appointment as Executive Director of Global Kids, a city-wide youth development organization that educates, inspires and mobilizes young people to become global citizens who are positively engaged in the world and prepared for their future.  Since taking on this role, Dominique has led the development of Global Kids' renewed strategy to ensure all youth served have the resources and tools to achieve post-secondary success.
Prior to her appointment at Global Kids, Dominique served as Executive Director of Boys & Girls Club of Harlem as well as held senior roles at Food Bank for New York City and the New York City Administration for Children's Services.  Additionally, Dominique serves on the Boards of Directors of Harlem Renaissance Education Pipeline and New York Common Pantry. She is also an active member of Alpha Kappa Alpha Sorority, Incorporated, Pi Kappa Omega Chapter and The Greater New York Chapter of The Links, Incorporated.
Matthew Kaplowitz
CEO and Chief Creative Officer, Bridge Multimedia
Matt Kaplowitz is President of Bridge Multimedia, a social enterprise founded in 2002 with the conviction that accessibility increases the freedom, independence, and productivity of people with disabilities, and fosters a more open and dynamic society. Since its establishment, thas worked to increase literacy access to individuals with intellectual and developmental disabilities through multi-sensory learning. Bridge has also expanded the benefits of audio description to children on the autism spectrum and English Language Learners. Presently, Bridge is leading a two-year research study in partnership with PBS KIDS.  Its purpose is to explore promising practices and innovative approaches to American Sign Language for children who are Deaf/Hard of Hearing.
As a Grammy, Emmy, Peabody and Webby award winning music producer, Kaplowitz has worked with Ravi Shankar, Joshua Bell, Stephen Sondheim, The New York Philharmonic, Carol Burnett, Christine Aguilera, Chris Botti, Dave Matthews and Sting.
Sharon Levy
Senior Vice President of Public Affairs, YMCA of Greater New York
Sharon Levy is the SVP for Public Affairs and is responsible for all aspects of the organization's public affairs, public policy, government relations, government funding and community partnerships portfolio.
Over the last three years, Sharon played a lead role in the creation of new community focused efforts including free food markets, student learning labs, expansion of the Y's housing portfolio and standing up multiple COVID-19 vaccination sites. Sharon also managed the team that increased voter registration and civic engagement activities citywide.  These efforts resulted in the Y's ability to serve communities in innovative ways through new and increased programming in nutrition, health, education, and housing
Prior to joining the YMCA, Sharon held staff positions within all levels of government: U.S. House of Representatives, Office of the New York State Governor, Office of the Nassau County Executive and the New York City Council.
Ted Metellus
Senior Vice President of Events and Race Director of the TCS New York City Marathon, New York Road Runners
Ted Metellus is NYRR's Senior Vice President of Events and Race Director of the TCS New York City Marathon. Ted plays a significant role in managing NYRR's 40-plus races each year, overseeing and enhancing start, course and finish operations, safety and security, medical teams, staffing and volunteers, youth events, experiential events and warehouse operations. His event leadership role spans from the TCS New York City Marathon, the world's largest marathon, and RBC Brooklyn Half, one of the nation's largest half marathons, to weekly races across New York City's five boroughs and New Jersey.
Additionally, he serves as the organization's key liaison with New York City agencies and partners, a crucial relationship for NYRR throughout the year to hold its events in the city's parks and streets.  
Ted has more than 20 years of experience in public, marketing, charity event production and the endurance sports industry. He has worked with industry leaders such as Pallotta TeamsWorks, NYRR, Eventage, the Miami Marathon, the Philadelphia Triathlon, Lifetime Triathlons, the Rock 'n' Roll Marathon Series, and IRONMAN.
Krissy Moore
Senior Vice President and Community Relations Northeast Senior Manager, Wells Fargo
Krissy Moore is Senior Vice President of Community Relations for the Northeast Region at Wells Fargo. In this role Krissy leads a team of community relations professionals, overseeing philanthropic giving and community development activities across the 10-state region. Krissy focuses on helping Wells Fargo utilize its resources and expertise to create positive outcomes in communities through building relationships with stakeholders and high-impact partnerships with nonprofits that are addressing pressing needs particularly in the areas of housing access and affordability, small business growth, financial health, and sustainability.
Prior to Wells Fargo, Krissy was Senior Vice President of Corporate Social Responsibility at the Partnership for New York City. There she created opportunities for corporations and nonprofits to collaborate on initiatives that combined volunteers, philanthropy and tapped into the core competencies of the private sector to address the city's needs. Krissy is dedicated to supporting underserved communities, advancing racial equity and increasing access to opportunity.
JoAnne Page
President and CEO, The Fortune Society
JoAnne Page has over 45 years' experience in criminal justice, with the last 34 of those years at the helm of The Fortune Society. Under Ms. Page's stewardship, The Fortune Society has been recognized as a national leader in criminal justice advocacy and as a pioneer in assisting former prisoners to reintegrate into society. The organization offers more than a dozen programs including mental health and substance abuse treatment, counseling, family services, HIV/AIDS health services, alternative to incarceration and supervised release services, employment services, creative arts and housing. These innovative and successful initiatives have become models for similar programs across the country. Ms. Page is especially proud of the housing programs that she has developed. This includes the opening of the groundbreaking Fortune Academy in 2002, the nationally recognized emergency and transitional residence housing homeless formerly incarcerated individuals. Ms. Page took an abandoned drug den and turned it into a place of hope and understanding.
Tania Peterson Chandler
Chief Operating Officer, EAC Network
Tania has spent her entire career in the social services field. Since 1997 she has worked for EAC Network, a not-for-profit social service agency that empowers, assists, and cares for people in need throughout New York. Most recently she became an Energeia Partner. The Energeia Partnership brings together a diverse group of ethical leaders from Long Island's public, private and not-for-profit sectors to help address this region's most complex issues.
Over the years at EAC Network, she has taken on various roles, with significant leadership, management, and supervisory responsibility, including maintaining the position of Vice President of Operations while also acting as Interim President & CEO during the COVID-19 pandemic. Currently she is the Chief Operating Officer for EAC Network and oversees the coordination, integration, and delivery of all programs, multiple and varying contracts, and related services, promotes collaborative relationships between program areas, and ensures that the expectations of funders, clients, and stakeholders are met.
Rebecca Press
Legal Director, UnLocal
Rebecca Press is UnLocal's Legal Director, leading the Legal Team to provide representation to New York's immigrant communities, including those at imminent risk of deportation, those fleeing persecution, the long-time undocumented, and many others. Rebecca helps UnLocal attorneys and representatives provide fierce and cutting-edge representation to immigrant New York and to work tirelessly to ensure that our communities have access to the legal representation they deserve and need. Rebecca has over ten years of experience representing immigrants of all ages in removal proceedings, with a particular focus in Asylum and Protection under the Convention Against Torture. She practices regularly before the Immigration Court, Board of Immigration Appeals, and Federal Court of Appeals for the Second Circuit. In addition, Rebecca clerked at the New York Immigration Court through the Attorney General's Department of Justice Honors Program. Prior to joining UnLocal, Rebecca was Supervising Attorney at Central American Legal Assistance and at The Legal Aid Society, and a Chadbourne and Parke Fellow at The Door's Legal Services Center.
Rebecca Preve
Executive Director, Association on Aging in New York
Becky Preve is the Executive Director for the Association on Aging in New York, a member organization representing the 59 area agencies on aging in NY. The mission of the Association is to support and enhance the capacity of New York's local area agencies on aging and to work in collaboration with the aging network to promote independence, preserve dignity, and advocate on the behalf of aging New Yorkers and their families. Prior to joining the Association, Becky was Director for Franklin County Office for the Aging. Prior to her tenure in the aging network, Becky was an acute care social worker at Alice Hyde Medical Center in Malone, NY.  Becky earned her bachelors of Science degree from Clarkson University in 2002, and has also received certification from the Institute for HealthCare Improvement, and Boston University of Social Work. Becky is a Board member for Adirondack Health Institute, Hospice of the North Country, Cornell Cooperative Extension, Cerebral Palsy of the North Country, Fieldstone Foundation, and the Joint Commission for Economic Opportunity.
Joseph Salamone
Founder and Executive Director, The Long Island Coalition Against Bullying
Mr. Salamone, a native of Long Island, is the founder and Executive Director of The Long Island  Coalition Against Bullying, a position he has held since 2013.
A victim of bullying himself, Mr. Salamone's vision is simple: to reach as many children and families experiencing bullying as possible. His driving force is to create an environment that  keeps emphasis on the importance of the issue all while demonstrating financial diligence and  respect with the public's generous contributions.
Under Mr. Salamone's leadership, LICAB has quickly emerged as a pioneer organization fiercely  advocating for children and families impacted by bullying and proudly working with many Long  Island schools and organizations to maintain and enhance their bullying prevention curriculums.  Mr. Salamone's drive and passion for the cause has enabled LICAB to affect change through  efforts including government task forces and helping to spearhead passing important legislation.  
Shirley Salomon
Program Director, Vincent's Village, Sisters of Charity Housing Development
Shirley is a Licensed Clinical Social Worker (LCSW) and Program Director for the Sisters of Charity Housing Development Corporation's senior housing program at Vincent's Village.   Her work experience includes direct clinical practice, clinical supervision, administration, program design, community outreach, supervision of volunteers, and fund-raising promotion.
Shirley has worked for, and in partnership with, several social service agencies serving youth, families, and underserved populations in the five boroughs, Orange County and now Rockland County. Shirley co-chaired the New York Mentoring Partnership's Provider Council for several years starting in 2011.  She serves on the board of Of Home, Family and Future, a 501(c)(3) organization that offers assistance to domestic violence survivors and college-bound foster care youth. Shirley is also a member of the Board of Directors for Photo Safe, a non-profit organization whose mission is to capture, print and preserve digital images of children in foster care in the United States with the sole purpose of creating a historic record for the personal use of the child.
Rob Solano
Co-Founder and Executive Director, Churches United for Fair Housing
Rob Solano is the Executive Director and Co-Founder of Churches United For Fair Housing (CUFFH). CUFFH is a grassroots organization that was founded in 2009 out of community organizing efforts around a rezoning and development at the Broadway Triangle, Brooklyn that would have created dramatic racial disparities and increased segregation in the area. 13 years later, CUFFH continues to organize towards preserving and creating vibrant communities that are truly affordable for working families in New York City through community organizing, youth engagement, and social services. Solano formerly served as the vice president of the International Brotherhood of Electrical Workers (IBEW) Local Union # 3 Apprentice Division. He is a graduate of Empire State College and a Certified Electrician of Harry Van Arsdale School of Labor Studies. He is a Harry S. Truman Masonic Lodge Master Mason, lecturer at Cornell University, and a member of the Brooklyn Borough President Antonio Reynoso transition team. Most importantly, Rob is a lifelong New York Knicks fan, thrilled to be married to Mel Carrera, and father to their amazing little one, Robbie Jr.
Gregory J. Sorrentino
President and CEO, Center for Disability Services
Gregory J. Sorrentino is currently the President and Chief Executive Officer of the Center for Disability Services. He began his tenure in the position January 2, 2019, and is responsible for the oversight of the Center and its divisions, including St. Margaret's center, Prospect Center in Queensbury, Health Innovations Incubator and Technology Center and Down Syndrome Aim High Resource Center. He has been with the Center since 1993.
Prior to his current position, he was Chief Financial Officer and Chief Operating Officer, Director of Financial Operations, and Assistant Director of Finance at what was then the Center for the Disabled. In addition his career at the Center, Mr. Sorrentino was an adjunct faculty member at Sage Colleges Graduate Division for Financial Accounting, in Albany, NY. He also serves on the Sage Colleges Graduate School Advisory Committee.
Mr. Sorrentino received his Bachelor of Science degree in Business Administration from Siena College in Loudonville, NY, and his Master of Science degree in Health Services Administration from Sage Graduate School in Albany, NY.
Ramon Tallaj
Founder and Chair, Somos Community Care
Ramon Tallaj / SOMOS
Ramon Tallaj, M.D. is a highly experienced and accomplished board-certified internist with over four decades of experience in the medical field. He earned his medical degree from Universidad Nacional Pedro Henríquez Ureña, Escuela De Medicina in the Dominican Republic and completed his residency at St. Luke's Roosevelt Hospital Center in New York City. Dr. Tallaj has served in several government positions in the Dominican Republic, and he was urged by the Cardinal of the Archdiocese of New York to relocate to the United States to provide medical care to New York's Hispanic immigrant communities. In 1997, he established his first internal medicine practice in Washington Heights.
Dr. Tallaj is the founder of SOMOS Community Care, a physician-led network of healthcare providers that offers culturally competent care to over 1 million Medicaid and Medicare beneficiaries in New York City's immigrant communities. Tallaj and the SOMOS network have helped to enhance preventive and chronic care management, reducing emergency room and hospital admissions by more than 35 percent.
Charlene Tarver
Founder and CEO, The Women's Economic Institute
Charlene Tarver is deeply committed to women's empowerment and is a staunch champion of entrepreneurial-led economic development in marginalized and low-income communities.  Tarver chartered the National Coalition of 100 Black Women (Metropolitan Phoenix, AZ) in 2015; launched The Women's Economic Institute (Nat'l) in 2017; and formed the Black AZ COVID-19 Task Force in 2020 at the onset of the COVID-19 global Pandemic, to implement utility and eviction moratoriums and provide resources to reduce the shrinkage of women and minority owned businesses.  Today, Tarver is building a micro community on the Southside of her hometown Syracuse, NY to provide affordable senior housing, reduce food and retail insecurity, eradicate child poverty, and support BIPOC/women entrepreneurs.
Charlene is an influencer in government, non-profit, and legal environs who leverages her experience and relationships to help bridge the gap and facilitate meaningful socio-economic impact.
Christopher Treiber
Chief Innovation and Strategy Officer, InterAgency Council of Developmental Disabilities Agencies Inc.
Christopher Treiber was recently appointed as the Chief Innovation and Strategy Officer for the Inter Agency Council for Developmental Disability Agencies (IAC).  Prior to this appointment he was the IAC's Associate Executive Director for Children's Services for 11 years. Chris possesses in-depth knowledge of disability law and special education regulations. He has been appointed to various city and state-wide taskforces, including the NYS Board of Regents School Reopening Taskforce and the Early Childhood Blue Ribbon Taskforce.  He was Chair of the New York City Local Early Intervention Coordinating Council and most recently was appointed to the NYC Chancellor's Special Education Advisory Council and the NYC Commissioner's Daycare Advisory Council. Chris has been a passionate advocate for children and adults with intellectual and developmental disabilities for more than 35 years. Chris is a certified social worker and has a Master's Degree in Social Work from Hunter College School of Social Work.
Jodi Warren
Partner, Capell Barnett Matalon & Schoenfeld LLP
A Partner in the law firm Capell Barnett Matalon & Schoenfeld's Not-for-Project and Religious Organizations Practice, Jodi counsels a broad range of clients, including churches, synagogues, temples, education institutions, and other tax-exempt organizations on a host of legal issues, including the corporate governance process and compliance, tax exemption filings, and complex real estate and development projects.
She frequently advises clients on strategies to develop previously underutilized real estate assets to fund mission-focused initiatives that can ensure their organization's long-term growth and sustainability. Employing the firm's proprietary Mission Driven DevelopmentTM Process, she helps clients negotiate highly beneficial long-term leases, property purchases and sales, joint ventures, air rights transfers, and large-scale development projects. She guides not-for-profit petitions to the New York State Attorney General and Supreme Court for approval of asset sales or dispositions and regularly attends board meetings, community meetings, and member meetings.
Vernon Wooten
Senior Case Manager of Fatherhood Matters Program, United Activities Unlimited
Vernon 'Dyverse' Wooten has been doing fatherhood work for the past 15+ years in different capacities throughout child welfare. Beginning with parent advocacy for ACS and then going on to visit coach parents trying to have their children returned from Foster Care agencies like Seaman's Society, New York Foundling and Children's Aid Society. After becoming a co-chair for the Staten Island Community Partnership in 2009, he took on a role advocating for Father's in 2012. Eventually Dyverse was hired for the DYCD Fatherhood initiative under UAU in Staten Island in 2017. Since stepping into this role, he has run the day-to-day functions of the program until today and has initiated more holistic services to improve client outcomes. His commitment to service and families has earned him tremendous respect within the borough of Staten Island and amongst his colleagues citywide.
Mon Yuck Yu
Co-Founder, Executive Vice President and Chief of Staff, Academy of Medical & Public Health Services
Mon Yuck Yu is co-founder of the Academy of Medical & Public Health Services (AMPHS), a public health nonprofit organization addressing barriers to health and wellness affecting underserved immigrant populations in South Brooklyn. She started the organization in response to the health access inequities she witnessed as her father, an immigrant, struggled with terminal illness when she was a child. For the past 13 years, she has spearheaded initiatives bringing free healthcare, mental health, literacy, public safety, and food security programming into her community, and has been instrumental in response efforts during COVID-19. An active immigrant rights advocate, Mon Yuck is heavily involved in the fight for universal health coverage. She has also co-founded a strategic consultancy to uplift other growing nonprofit organizations. Mon Yuck is founding Board member of Women's Empowerment Coalition, while serving on the Boards and Community Advisory Boards of New Leaders Council-NYC, Sunset Park BID, Test & Trace, and SUNY Downstate. She received her B.A. in anthropology from Dartmouth College and Masters of Public Administration from Columbia SIPA.