CCube Solutions – Electronic document management
June 21, 2022
2022-06-21 20:34
CCube Solutions – Electronic document management
CCube Solutions – Electronic document management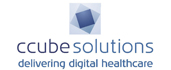 CCube Solutions specialises in providing Electronic Document and Content Management (EDRM) and Workflow solutions
CCube Solutions, an independent UK SME, has been working in the NHS (secondary care) for over 20 years.  We have recently attained BSi certifications for several ISO Standards – 9001, 14001, 2700, 27701, and BS 10008 – demonstrating our commitment to abide with established standards for protecting sensitive patient data held in our solutions in widespread use in the NHS.  We help Trusts and Health Boards alike digitise legacy patient medical records and make this information available to clinicians and other health professionals at the point of care.  It supports the Government's drive that the NHS should be using technology to improve productivity, reduce costs and ultimately enhance patient care.
CCube Solutions specialises in providing Electronic Document and Content Management (EDRM) and Workflow solutions, based on the CCube software suite which holds and manages some 450 million documents containing over 2 billion pages for 32 million patients across 30+ NHS organisations around the UK. The CCube software suite currently holds and manages some 450 million documents containing over 52 billion pages for 32 million patients across 30 NHS organisations around the UK. Some of our NHS sites have been using the solution for over 19 years. Data on realisable benefits, from just three key sites, shows a collective saving of c.£35M over 10 years.
With a proven track record of project success and expertise working with the NHS for over 20 years, providing cost-effective and scalable solutions tailored to meet individual requirements, our software suite is used in some 30 NHS organisations around the UK. These include Aintree, Blackpool Teaching Hospitals, Aneurin Bevan University Health Board, North Bristol Trust, NHS Grampian, NHS Forth Valley, Papworth, St Helens & Knowsley, and NHS England. We aim to deliver measurable benefits, helping to bring paperless healthcare within 20 months.
CCube's EDRM can also be embedded within other digital patient record systems, such as Cerner's Millennium. At Milton Keynes University Hospital NHS Foundation Trust, 3,800 staff can access legacy patient records contained in the CCube system but view them from within Millennium. Clinicians now just press the EDRM tab within the Millennium menu and the EDRM viewer immediately displays CCube's patient record.
Digital technologies are helping to:
Minimise handling of physical notes and records and ensure that patient information is available at the point of need;
Support remote consultations and Virtual Clinics – seen as crucial for reducing unnecessary outpatient visits, saving time and money for patients and the health service;
Ensure delivery of care to non-Covid patients can continue, to help avoid issues in the future and minimise revenue losses.