Addressing the digital disconnect – Australian Ageing…
June 23, 2022
2022-06-23 2:52
Addressing the digital disconnect – Australian Ageing…
Addressing the digital disconnect – Australian Ageing…
Many aged care providers' data collection systems aren't talking to one another – but they should be, a leading expert on information and communications technology in healthcare tells Australian Ageing Agenda.
"At the moment, lots of aged care providers are collecting lots of information in their digital systems but often they're in silos," said Professor Johanna Westbrook – director of the Centre for Health Systems and Safety Research at Macquarie University's Australian Institute of Health Innovation.  
Providers' data systems are all-too-often insulated from one another, she said. "What we've been showing is, if you bring those silos of data together, and run some pretty standard statistical reporting over that, you can produce some really valuable reports about what's going on across your systems."
A digital disconnect within the sector was recognised by the royal commission, which highlighted major problems and impediments with technological infrastructure in aged care – including variable use of digital record keeping for clinical and administrative information management.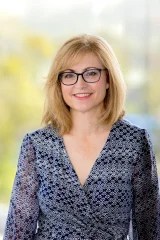 Professor Johanna Westbrook
Speaking to AAA ahead of the Information Technology Across Care conference in Sydney in July, Professor Westbrook used data collected on antipsychotics as an example. Only being informed of the proportion of aged care residents currently on such medication doesn't actually tell you much, she said.
"What you want to be able to do is know the profile of people on antipsychotics. Then you want to look at whether the medication is appropriate for the types of conditions residents have. It provides much more rich data by which providers can look at where they should be targeting quality and safety initiatives."
Other ICT issues facing the aged care industry include the limitations of the digital systems being used. "A lot of them do not have very sophisticated reporting mechanisms so we need to push the vendors along in that direction and show them what is valuable and useful," said Professor Westbrook.
The information technology skills and abilities of the workforce also need to be addressed, she said. "But we should be presenting data in ways that you don't have to have a lot of sophisticated knowledge about systems or statistics."
As well, there needs to be better data being presented to residents and families "so they can be active partners in the care process."
The hope is, said Professor Westbrook, in the not too-distant future, the aged care sector will have tailored ICT systems "that are providing valuable data in ways that are meaningful and useful and that integrate into people's everyday work."
ITAC 2022 will be held 12 and 13 July 2022 at Rosehill Gardens Racecourse, Sydney.
Australian Ageing Agenda is ITAC's principal media partner
Comment on the story below. Follow Australian Ageing Agenda on Facebook, Twitter and LinkedIn, sign up to our twice-weekly newsletter and subscribe to AAA magazine for the complete aged care picture.  
Related