Jharkhand: Technology empowering future-ready healthcare system
July 25, 2022
2022-07-25 12:09
Jharkhand: Technology empowering future-ready healthcare system
Jharkhand: Technology empowering future-ready healthcare system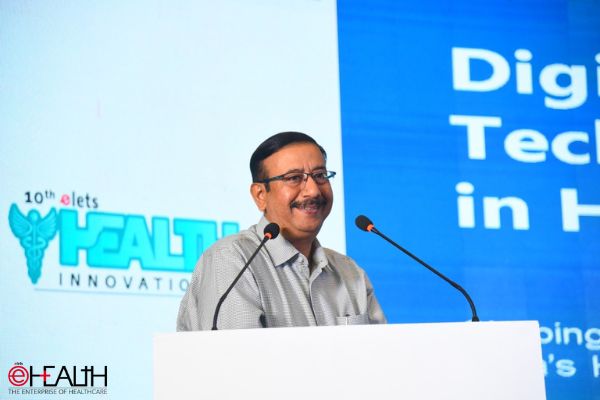 Client-centric interventions are key and expressed to make the healthcare system more resilient and responsive. Arun Kumar Singh, Jharkhand State Department of Health and Family Welfare (H & FW), Additional, Chief Secretary and 10th Elets Healthcare Innovation Summit In New Delhi. Edited excerpt:
How can technology transform health care?
Digital health has a major impact on the delivery of health services. Sustainable healthcare systems can be built by balancing the relationships between healthcare professionals and patients and providing cheaper, faster and more effective solutions to illness.
The e-health model covers a variety of technologies, concepts and approaches, including big data, artificial intelligence, genomics, analytics, telemedicine, smart devices and wearables, and telephone health applications. The healthcare sector needs to prepare for the adoption of new era technologies such as virtual reality, nanotechnology, robotics, and 3D printing.
Under the Ayushman Bharat Digital Mission (ABDM), people can create an Ayushman Bharat Health Account (ABHA) to manage their health records more effectively. The entire range of information such as medical professional registration, medical facility registration, health record, electronic medical record, etc. is collated for the best results. It can be used to identify risks and reduce harm in primary care settings.
With all the data on a single platform, ABDM becomes a game changer, paving the way for transparent systems.
Electronic prescriptions will be part of ABDM.
How can you make the best use of your health care system?
Technology can play an important role in the use of drug inventory management and infectious disease mapping and monitoring. In addition, technology can be used to enhance primary health care by facilitating clinical support, monitoring quality of care, and tracking drug and vaccine supplies. This builds a robust referral system that helps reduce unnecessary patient hospitalizations. Digital tools such as e-learning, disease monitoring, monitoring, and targeted health campaigns are a variety of technical solutions available to provide primary health care.
How is technology empowering health care in rural Jharkhand?
In Jharkhand, ASHA, known as "Sahiya," has helped provide medical services up to the last mile. We have empowered 40,000 ASHA workers to provide medical care in approximately 33,000 villages. ASHA workers check every household in the village.
ASHA workers are empowered through e-tools under Swasthya Prahari Yojana. This project will provide various medical facilities in rural areas through the app. The Sahiya app is developed for this purpose.
We also work with Mamta Vahan Service to provide referral transportation services to pregnant women.
India is expanding its network and new schemes have been launched to allow it to reach rural areas, but it is still a challenge.
What are some of the key technology-driven healthcare initiatives in the state?
Health GIS: The Health GIS facility was developed by the Jharkhand Space Applications Center (JSAC) for the National Health Mission (NHM). All medical facilities are mapped to the system and published on the web.
MIS for Biomedical Waste Management: The Biomedical Waste Management application has been implemented in states up to the Community Health Center (CHC).
Implementation of e-Hospital: Currently, e-Hospital is located in five district hospitals, DH Ranchi, DH Khunti, DH Chatra, DH Giridih and DH Ramgarh, at the Rajendra Institute of Medical Science (RIMS) and Central Institute of Psychiatry (CIP). It is operated with. ..
Sahiya Sangi Portal: This portal will be used to enhance HBNC (Home Newborn Care) activities conducted by the community mobilization cell NHM Jharkhand.
Participatory Learning and Behavior (PLA): This portal is dedicated to the Participatory Learning and Behavioral Approach operated by the community mobilization cell NHM Jharkhand.
Personnel Information System (HRIS): HRIS has been implemented in NHM at the state level and is underway at the district level. This software is developed by C-DAC.
e-Aushadhi (DVDMS): Drug and vaccine distribution management system up to CHC level.
Swaraksha Portal: This is a technology integration strategy for managing COVID-19 patients in home isolation.
Interactive voice recording (IVR) -based monitoring for Covid-19 patients in home isolation.
Online MIS of the Malnutrition Treatment Center (MTC).
T3 App: Anemia Muktovarat (AMB) testing, treatment and tracking app in the final stages of preparation
Multi-model pulse oximeter for pneumonia detection as a pilot project
Fetal heart rate walking device as a pilot project
Technology has the potential to accelerate access and increase the fairness of the scope of healthcare services by reaching unreachable. Technical interventions such as IVRS and telemedicine can improve the efficiency and effectiveness of the healthcare value chain.
Follow us on Facebook to connect. twitterLinkedIn, Elets Video