Healthcare and Pharmaceutical Conclave Held At SIBM…
July 31, 2022
2022-07-31 9:47
Healthcare and Pharmaceutical Conclave Held At SIBM…
Healthcare and Pharmaceutical Conclave Held At SIBM…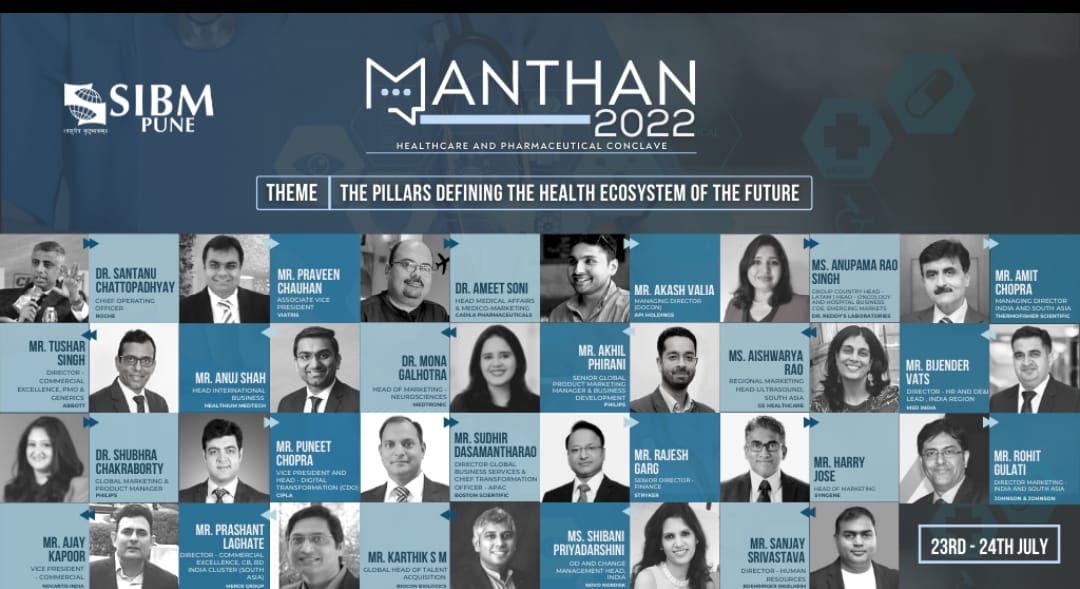 Pune, 28th July 2022: Symbiosis Institute of Business Management, Pune successfully conducted Manthan 2022: Healthcare and Pharmaceutical Conclave on 23rd and 24th July 2022.
Day one of the conclave had a catalogue of keynote sessions on topics such as Challenges in the Healthcare Sector, Social Determinants of Health, and Customer-Centric Digital Transformation in the Healthcare sector. Varied perspectives on these topics were offered by leading industry experts like Mr. Santanu Chattopadhyay Chief Operating Officer, Roche, Mr. Akash Valia, Managing Director (Docon), API Holdings Pharmeasy, Dr. Shubhra Chakraborty, Global Marketing and Product Manager, Philips, and Mr. Puneet Chopra, Vice President and Head, Digital Transformation (CDO), Cipla.
Students gained a holistic understanding of the Pharmaceutical domain by engaging with esteemed speakers like Mr. Praveen Chauhan, Associate Vice President, Viatris and Dr. Ameet Soni, Head Medical Affairs & Medico- marketing, Cadila Pharmaceuticals in a fireside chat on the topic "The Pharma Conundrum: Challenges Facing the Healthcare Sector."
The second fireside chat on "Digital Disruption- From Molecule to Market" between industry veterans like Ms. Anupama Rao Singh, Group Country Head- LATAM | Head- Oncology and Hospital Business CoE, Emerging Markets, Dr. Reddy's Laboratories and Mr. Tushar Singh, Director- Commercial, Excellence, PMO & Generics, Abbot elucidated the role of emerging technologies in pioneering innovations in the domain.
The day culminated with a panel discussion on "MedTech: From Innovation to Reality in Healthcare" which hosted esteemed panelists like Mr. Anuj Shah, GM, International Business, Healthium, Dr. Mona Galhotra, Head of Marketing, Neurosciences, Medtronic, Mr. Akhil Phirani, Senior Global Product Marketing Manager and Business Development, Philips, and Ms. Aishwarya Rao, Regional Marketing Head, Ultrasound, South Asia, GE Healthcare.
Keynote sessions on Day 2 further widened the horizon of knowledge in the Healthcare domain. Eminent personalities like Mr. Sudhir Dasamantharao, Director of Global Business Services & Chief Transformation Officer – APAC, Boston Scientific, Mr. Rajesh Garg, Senior Director Finance, Stryker, Mr. Amit Chopra, CMD and VP/GM India and South Asia, Thermofisher, and Mr. Rohit Gulati, Director Marketing – India and South Asia, Johnson & Johnson offered key insights on the healthcare and pharmaceutical domain.
Ms. Khushboo Panchal, India Lead Leadership Hiring, Thermofisher added value to the day by facilitating the session with Mr. Amit Chopra on the topic of "Healthcare- Access, Affordability, and Quality."
The panel discussion on "R&D in the Indian pharma industry- A pathway to self-reliance" had industry veterans like Mr. Harry Jose, Head Of Marketing, Syngene, Mr. Ajay Kapoor, Vice President – Commercial, Novartis, and Mr. Prashant Laghate, Director – Commercial Excellence, CB, BD India Cluster (South Asia), Merck.
The second panel discussion of the day on "Restructuring Workplaces and Workforces: Factoring in the Need for Change and Diversity" was graced by Mr. Karthik S M, Global Head of Talent Acquisition, Biocon Biologics, Ms. Shibani Priyadarshini, OD and Change Management Head, India, Novo Nordisk, and Mr. Sanjay Srivastava, Director – Human Resources, Boehringer Ingelheim. The discussion was moderated by Mr. Bijender Vats, Director – HR and DE&I Lead, India Region, MSD India.
Sharing about the event Dr Ramakrishnan Raman, Director SIBM Pune said "It was a privilege for the students to listen to all the panelists and to be part of the highly informative and interactive sessions. I am thankful to all the panelists to gave their time and shared their knowledge with the students which made "Manthan 2022: Healthcare and Pharmaceutical Conclave" a grand success".
Continue Reading