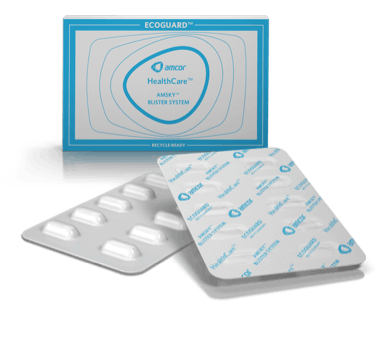 Amcor was named Recyclable Packaging winner at Packaging Europe's 2022 Sustainability Awards. The company was recognized for its Amcor HealthCareTM AmSkyTM blister system, a breakthrough vinyl-free and aluminium-free thermoformed blister system. This recycle-ready solution is a more sustainable and carbon footprint optimized alternative for the most in-demand healthcare packaging type.
Amcor's AmSky™ blister system is designed for both PE rigid and PE flexible recycling streams. It removes the traditional use of PVC (polyvinyl chloride) and foil from the packaging by using a polyethylene (PE) thermoformed blister and lidding film, enabling pharma companies to improve the recyclability of their packaging. Due to its integrated design, the lidding is also child-resistant and senior friendly (CRSF) to ensure safer and convenient packaging. The AmSky™ Blister System also benefits from up to 70% reduction in its carbon footprint when compared to typical blister packs in the market.
Dr. John Forsyth, global product manager blister systems & sachets at Amcor, says, "AmSky's breakthrough recycle-ready blister system showcases how material science and design play a vital role in the future of healthcare packaging, and we are delighted to see it recognized for the Recyclable Packaging award. It demonstrates our heritage in healthcare, strong R&D expertise, and commitment to ongoing innovation and sustainability."
Packaging Europe's 2022 Sustainability Awards took place in Lisbon, to honor the industry's most important sustainable innovations across the packaging value chain.