Building a sustainable medicines supply chain
September 25, 2022
2022-09-25 2:57
Building a sustainable medicines supply chain
Building a sustainable medicines supply chain
Dr Nazneen Rahman, Founder and CEO of YewMaker and Sustainable Medicines Partnership (SMP) Director, describes why tackling wasted medicines supplies is key to delivering a Net Zero NHS
On July 1st 2022, the Health and Care Act, 2022, embedded into legislation the NHS commitment to become net zero by 2045. Medicines account for 25% of NHS emissions and a comprehensive strategy for reducing the emissions through sustainable medicines is essential for net zero to be achieved.
The Delivering a Net Zero National Health Service Report highlighted using lower carbon inhalers and anaesthetics, which together account for 5% of emissions, as key opportunities for decarbonising medicines use. However, the remaining 20% of emissions come from the manufacture and supply of billions of medicines dispensed each year.
The NHS has published a Net Zero Supplier Roadmap, which will require medicine manufacturers and suppliers to have a carbon reduction plan in place by April 2024 and to provide carbon footprints for individual medicines by April 2028.
Ensuring a supply of medicines is another area generating increasing concern in recent years with shortages of medicines now a common problem.
Reducing waste of medicines supply
The start and heart of any decarbonisation strategy is to reduce waste. Billions of safe, effective, usable medicines are destroyed globally each year, at a huge financial and environmental cost.
A 2010 study estimated the NHS spends £300 million on medicines that are never used, and this didn't include medicines destroyed by manufacturers which is estimated to be $11 billion/year globally from just the top 28 manufacturers.
Reducing the waste of medicines would make the supply chain more sustainable, resilient, and cost-effective, and could substantially reduce carbon emissions.
The Sustainable Medicines Partnership – a private-public collaboration
The medicines supply chain is complex, involving a wide range of stakeholders. Multi-stakeholder, private-public collaborations across the whole ecosystem will be required to deliver the foundational changes required, together with a strategic vision and practical roadmaps.
The Sustainable Medicines Partnership brings together 40 organisations from across the medicines supply chain, including manufacturers, packagers, distributors, technology providers, healthcare, hospitals, pharmacy, academics, researchers, patient groups, policymakers and changemakers.
Together, we are executing a four-year programme to build science-based sustainable medicines frameworks and solutions that address Six Pillars of Sustainable Medicines:
• Measurable impacts – the carbon footprint of most medicines is not currently available.
• End-to-end visibility – we need better tracking to know where and why medicines are being wasted.
• Better shelf life – most medicines are safe and effective long after their 'expiry' date but currently must be destroyed.
• Digital by default – billions of medicines information leaflets are destroyed each year. Most have never been read.
• Every dose used – we need to redistribute unused medicines wherever possible.
• Sustainable packaging – single-use
medicines packaging is typically incinerated or sent to a landfill.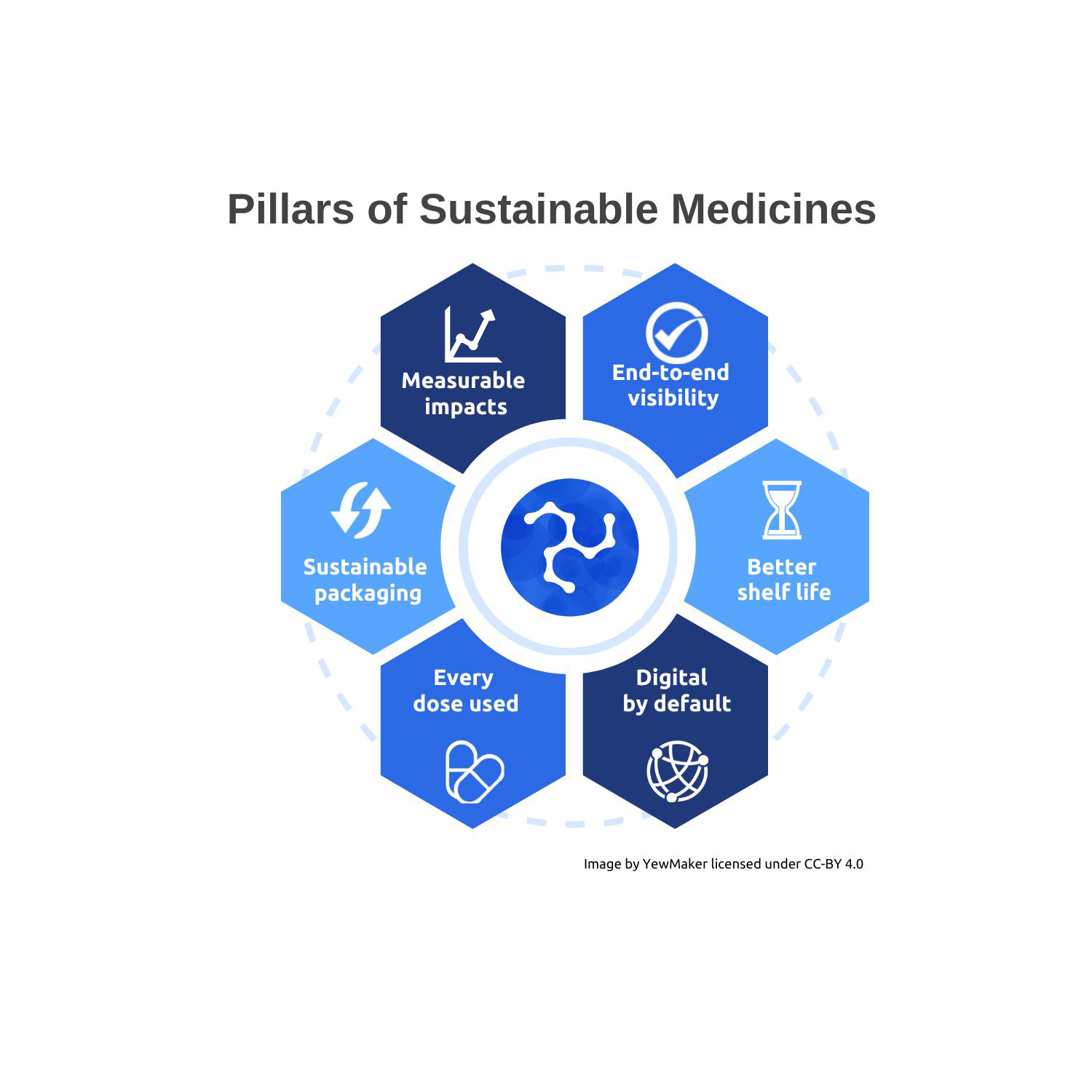 Pillars of Sustainable Medicines
Building science-based solutions – MCF Classifier
YewMaker builds solutions to make healthcare good for people, good for the planet, and good for business. The SMP allows us to identify and characterise systemic problems and to build, test, and scale solutions.
Measuring the carbon footprint of medicines is a core requirement of a sustainable medicines supply chain. Currently, emissions from medicines are estimated from how much we spend on them, using 'top-down' economic modelling. This high-level, non-specific approach cannot be translated into carbon reduction strategies or to incentivise measurable change. To provide more granular information, YewMaker are building MCF Classifier* supported by SBRI Healthcare NHS Net Zero funding.
MCF Classifier integrates 'green-by-design' metrics designed, validated, and measured by medicine manufacturers, which we have generated in silico for ~90% of medicines, with cost and prescription data, within a practical classification system. MCF Classifier allows measurement, evaluation, comparison, and stratification of medicines by carbon footprint to inform medicine manufacture, procurement, and prescription.
We will pilot and iterate MCF Classifier through the SMP next year, alongside solutions we are building to address other reasons why billions of usable medicines are destroyed every year.
Collective commitment build a sustainable medicines supply chain
We urgently need to rebuild our medicines supply chain to be resilient, sustainable, cost-efficient, and resource-efficient. There are many opportunities for meaningful change at individual, organisational, sectoral, national, and global levels. Scalable innovations, simple and sophisticated, are needed, but a collective commitment of collaborations like the Sustainable Medicines Partnership, will be the key to delivering real, lasting change.
* MCF = Medicine Carbon Footprint
Editor's Recommended Articles