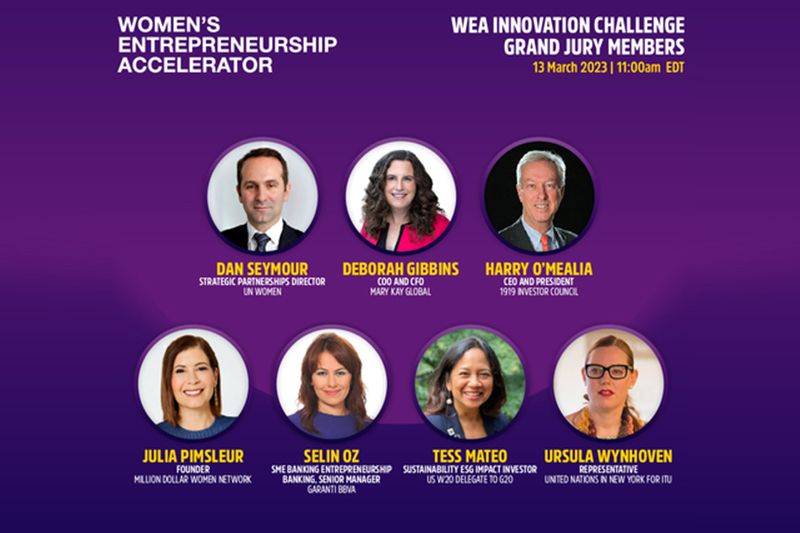 Ten women-owned or -led startups from around the world to receive capacity-building training and specialized mentorship to scale their digital solutions to help build an enabling eco-system for women entrepreneurs
Dallas (ANTARA/Business Wire)- Taking place on the margins of the Commission on the Status of Women (CSW67), the International Telecommunication Union (ITU), with support from Mary Kay Global, announced the ten winning companies of the Women's Entrepreneurship Accelerator (WEA) Digital Innovation Challenge at a packed event hosted at the New York City MetLife headquarters. In attendance were representatives of the United Nations, the private sector, investors and civil society organizations. Three startups, Tiny Totos, Gwiji for Women, and Health Innovation Exchange (HIEx), were awarded Special Recognition status for their best-practice innovations.
Launched in December 2022 at ITU's global headquarters in Geneva, the WEA Digital Innovation Challenge received 250 submissions from companies in 54 countries either owned by women or with a minimum of one female founder. Each company showcased how their unique digital solution can potentially strengthen digital entrepreneurship in support of the Sustainable Development Goals (SDGs). The Challenge revealed what an emerging eco-system of digital innovators looks like with remarkable creativity and ingenuity.
An initiative of the Women's Entrepreneurship Accelerator1 (WEA), in collaboration with Mary Kay and conducted by ITU in alignment with the ITU's Innovation and Entrepreneurship Alliance for Digital, the objective of the Challenge is to ultimately build an enabling context for women entrepreneurs by addressing the barriers to women's entrepreneurship, including the digital gender divide, complementing the theme of this year's CSW67 on innovation and technology from a gender perspective.
Digital solutions submitted ranged from an educational mobile application enabling children's speech and language development in the Philippines, to a software system to track companies' waste in Uruguay, to a digital solution addressing the child-care needs of low-income mothers in Kenya, to an online professional mentorship program for women in Kazakhstan.
Criteria in selecting the ten winners included:
– The viability and scalability of the technological solution;
– The degree of digital innovation shown, and
– The potential of the solution to impact lives, drive socio-economic benefits, and move the needle on sustainable development.
The ten winning companies were invited to present their two-minute live pitches before an expert Grand Jury comprised of investors and cross-sectoral representatives who each provided their unique insights based on the above criteria. The winners will gain access to the "Digital Innovation Challenge Acceleration Program" over the coming months where they will receive capacity-building training and a virtual bootcamp to help further refine their business plans as well as specialized mentorship and access to a network of change-makers. Following this, selected winners will participate in ITU's prestigious Global Innovation Forum later this year and join a community of practice to explore ways to leapfrog the digital innovation divide and address global challenges.
Grand Jury Members included:
Dan Seymour, Strategic Partnerships Director, UN Women
Deborah Gibbins, Chief Operating Officer, Mary Kay Global
Harry O'Mealia, CEO and President, 1919 Investor Council
Julia Pimsleur, Founder, Million Dollar Women Network
Selin Oz, SME Banking Entrepreneurship Banking, Senior Manager, Garanti BBVA
Tess Mateo, Sustainability ESG Impact Investor, US W20 Delegate to G20
Ursula Wynhoven, Representative to the United Nations in New York for International Telecommunication Union
In first place, Tiny Totos is a Kenyan social enterprise working to ensure quality childcare. By providing training, access to capital, a network and a technology platform, it helps set childcare centers up for success and in turn increases the availability and improves the quality of childcare services in the country. Health Innovation Exchange (HIEx) and Gwiji for Women, the two runners-up, are also addressing key societal issues. HIEx identifies challenges faced by health systems and connects innovators with key health eco-system actors primarily in Africa and Asia to deliver solutions to improve access to quality healthcare. Gwiji for Women is a tech start-up which is addressing barriers to labour market participation by low-income women in Kenya. It identifies, vets, trains, and empowers women from lower socio-economic backgrounds as casual cleaners by connecting them with prospective clients through a mobile application.
The WEA Digital Innovation Challenge was held against the backdrop of a rapidly changing economic context which has seen the rise of digital technologies and the growth of a digital economy. Recognizing the potential of the digital acceleration to perpetuate inequalities, the Challenge presented an opportunity to discuss digitalization as a barrier to women's economic status.
Did You Know:
The top three barriers faced by women digital entrepreneurs in getting their products and services to market are:
– A lack of capital and investment to scale their businesses;2
– Limited access to connectivity and to information and communication technologies (ICTs), and
– Opportunities to learn critical skills necessary to compete in the digital economy.3
Noting how the solutions presented throughout the Challenge were undisputedly changing the world for the better, Director of the Telecommunication Development Bureau at ITU, Dr. Cosmas Zavazava, underlined the centrality and critical importance of digital innovation in today's context, adding that, "Inclusive and equitable innovations will help us navigate a new digital world that is increasingly Volatile, Uncertain, Complex and Ambiguous." Addressing the gender divide which limits innovation eco-systems and ultimately weakens economies and societies, Dr. Zavazava called for more efforts to address this gap "to help protect against the socio-economic crises we have seen."
Also speaking at the event, Deborah Gibbins, Mary Kay's Chief Operating Officer, called for action now "to reverse the current trend of gender-blind innovations and redress the digital gender gap that exists in access to technologies and in digital education and skills." Given the scale of the challenge, she invited "more cross-sectoral partners to join efforts to build the conditions for women entrepreneurs to innovate, compete and thrive."
As one of the seven grand jury members, Tess Mateo, Sustainability ESG Impact Investor, US W20 Delegate to G20, commended the Challenge for strengthening the digital innovation eco-system for women-led companies, noting, "This Digital Innovation Challenge, which received over 200 submissions from 54 countries, shows how critical entrepreneurship-driven innovation is for economic growth and digital inclusion. I was honored to be a judge and hear from the 10 winning pitches each with their unique digital solution for a more gender-inclusive eco-system. Their solutions are indisputably changing the world for the better strengthening societies and economies. We need more Challenges like this to bring women innovators and women-led innovations together to build the conditions for women entrepreneurs to innovate and compete in the global digital economy."
The three startups which received Special Recognition status spoke about the importance of the Challenge as a key platform for presenting their respective digital innovations.
"Tiny Totos is a Kenyan social enterprise solving Africa's childcare crisis by turning informal babysitters into profitable childcare entrepreneurs. The recognition and platform provided by the WEA Digital Innovation Challenge provides us with invaluable endorsement of our business model at the highest levels of global community practice. As female founders, membership of a community of like-minded digital entrepreneurs fuels our creativity and drive to transform Africa's informal childcare market, achieve exponential growth in our network of low-income childcare entrepreneurs and help working women lift themselves out of poverty."
Emma Caddy, CEO and Founder, Tiny Totos
"The WEA Digital Innovation Challenge is a great platform to showcase our work towards female empowerment and to help women entrepreneurs expand their knowledge and networking opportunities. This is particularly needed in the health arena, since still today 1 in 2 people, or half the world, lack access to essential health care, and less than 2 percent of venture capital funding globally goes to women, despite the evidence that their ventures generate stronger returns. Women-owned/led startups face several barriers to success, including limited access to funding, networking opportunities, gender bias, and work-life balance issues. However, the rise of digital entrepreneurship presents real opportunities for women innovators to overcome such barriers, including access to global markets, support networks, and increasing awareness and recognition."
Paula Navajas, Chief Operating Officer (COO), Health Innovation and Investment Exchange (HIEx)
"The WEA Digital Innovation Challenge gives women-led ventures a voice in a male-dominated space. The program is practical and tailor-made to suit the needs of early-stage ventures that address our society's most pressing challenges. With every session, I feel more confident in my abilities as an entrepreneur and as a woman."
Elizabeth Mwangi, Founder and Director, Gwiji for Women
A recording of the WEA Digital Innovation Challenge is available here.
About Mary Kay
One of the original glass ceiling breakers, Mary Kay Ash founded her dream beauty company in 1963 with one goal: enriching women's lives. That dream has blossomed into a multibillion-dollar company with millions of independent sales force members in more than 35 countries. As an entrepreneurship development company, Mary Kay is committed to empowering women on their journey through education, mentorship, advocacy, networking, and innovation. Mary Kay is dedicated to investing in the science behind beauty and manufacturing cutting-edge skincare, color cosmetics, nutritional supplements, and fragrances. Mary Kay believes in enriching lives today for a sustainable tomorrow, partnering with organizations from around the world focusing on promoting business excellence, supporting cancer research, advancing gender equality, protecting survivors from domestic abuse, beautifying our communities, and encouraging children to follow their dreams. Learn more at marykayglobal.com, find us on Facebook, Instagram, and LinkedIn or follow us on Twitter.
About ITU
The International Telecommunication Union (ITU) is the United Nations specialized agency for information and communication technologies (ICTs), driving innovation in ICTs together with 193 Member States and a membership of over 900 companies, universities, and international and regional organizations. Established over 150 years ago in 1865, ITU is the intergovernmental body responsible for coordinating the shared global use of the radio spectrum, promoting international cooperation in assigning satellite orbits, improving communication infrastructure in the developing world, and establishing the worldwide standards that foster seamless interconnection of a vast range of communications systems. From broadband networks to cutting-edge wireless technologies, aeronautical and maritime navigation, radio astronomy, oceanographic and satellite-based earth monitoring as well as converging fixed-mobile phone, Internet and broadcasting technologies, ITU is committed to connecting the world. For more information, visit: www.itu.int.
1 Incepted by Mary Kay and launched in 2019, the Women's Entrepreneurship Accelerator (WEA) is a multi-partnership initiative on women's entrepreneurship convening 6 United Nations agencies comprising International Telecommunication Union (ITU), International Labour Organization (ILO), International Trade Centre (ITC), the United Nations Development Programme (UNDP), UN Global Compact (UNGC) and UN Women.
2 Research suggests that women entrepreneurs face $1.5 trillion financing deficits. MSME Finance Gap, International Finance Corporation, 2017. https://www.ifc.org/wps/wcm/connect/03522e90-a13d-4a02-87cd-9ee9a297b311/121264-WP-PUBLIC-MSMEReportFINAL.pdf?MOD=AJPERES&CVID=m5SwAQA
Contacts
Mary Kay Inc. Corporate Communications
marykay.com/newsroom
972.687.5332 or media@mkcorp.com
Source: Mary Kay Inc.