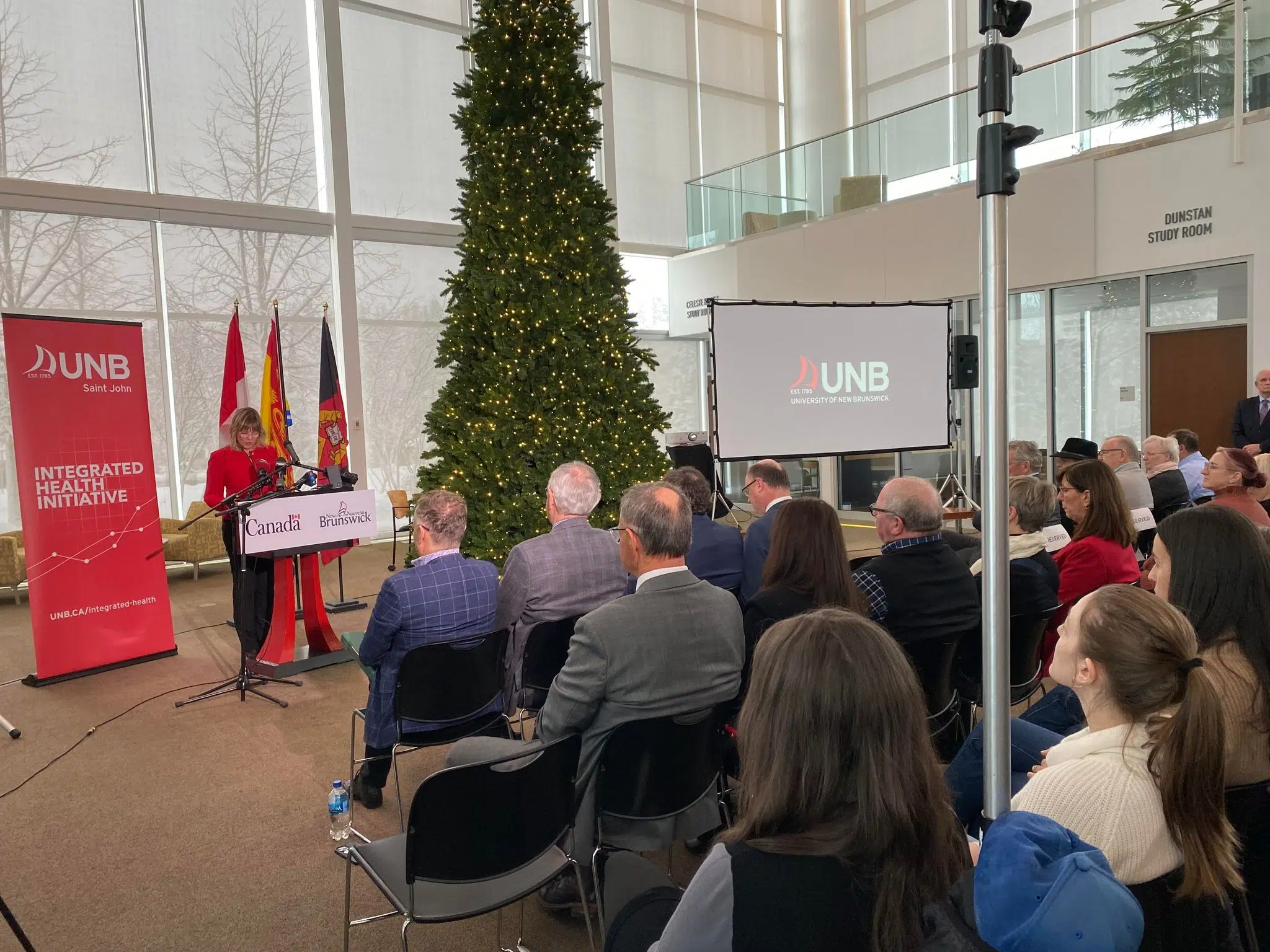 Dr. Petra Hauf, vice-president at UNB Saint John, speaks at an announcement regarding the Integrated Health Initiative. Image by Tamara Steele.
$38 million in government and university funding to build the Health and Social Innovation Centre at UNB Saint John.
Dr. Petra Hauf, vice-president of UNB Saint John, said it means they can get started on the Integrated Health Initiative.
"It's providing education for a new generation of healthcare workers who will be able to think outside of the box, be creative and also be flexible and adaptive for changes that come in the future," said Hauf during Monday's announcement.
Premier Blaine Higgs said the centre will be home to a new four-year interdisciplinary undergraduate program in health and will also house a research facility for scientists, innovators and entrepreneurs.
'This is an important development in the transformation of New Brunswick's healthcare sector," Higgs said.
The province of New Brunswick contributed $12 million to the project.
Construction of the new building will require the demolition of the vacant Ward Chipman Library and the construction of a new 65,000 square feet, three-and-a-half-storey building.
The new building, overlooking the campus quad and the Kennebecasis River, will link to nearby walking paths and a ring road.
Hauf said all the buildings, except the Hans W. Klohn Commons, are connected through an underground tunnel system and the Health and Social Innovation Centre will be included in that.
"The tunnel system will also be the area where we have gathering places and new classrooms with new technology for active learning and experiential education and our new, independent campus store will be housed at the tunnel level," said Hauf.
Federal Intergovernmental Affairs, Infrastructure and Communities Minister Dominic LeBlanc revealed his government's commitment of $15.2 million for the project.
"Canadians have long been pioneers in the field of health-care research. There is a tradition of excellence and innovation that lives here – and through this partnership with the Government of New Brunswick and UNB Saint John, we are building on that legacy. All New Brunswickers and all Canadians will benefit from the work that will take place in this new facility," LeBlanc said.
Additional features include "prominent green space highlighted by a healing garden to support healing, truth and reconciliation between Indigenous and settler communities."
The Health and Social Innovation Centre will also be "designed and built to maintain a low carbon footprint through green building standards and aim for a Leadership in Energy and Environmental Design (LEED) certification."
Construction is set to begin next spring, and Hauf hopes the new building will open in September 2024 for the 60th anniversary of UNB's Saint John campus.
A fundraising campaign is already underway and Hauf expects it will "ramp up" in 2023. The UNB contribution is $10.8 million.
Some of it has already been spent on items like architectural drawings.
"The Health and Social Innovation Centre is the hub for UNB's Integrated Health Initiative, an ambitious program designed to transform health care through education, research, partnerships, innovation and knowledge transfer," said university president and vice-chancellor Paul J. Mazerolle.
"The federal and provincial governments' support demonstrates that they share our vision of a Saint John-based centre of excellence with impact for our province, Atlantic Canada, as well as all of Canada."
At the beautiful UNB Saint John campus for a news event involving the Federal & Provincial governments. pic.twitter.com/qvGkUkk1Bh

— Tamara Steele (@tamarasteele1) December 19, 2022
We were happy to receive a $27.2 million commitment from the Federal Government of Canada and the Province of New Brunswick to build a new Health and Social Innovation Centre on our campus today‼️

Learn more: https://t.co/6fVGO08qZ4 pic.twitter.com/RPB0zhnyh5

— UNB Saint John (@UNBSaintJohn) December 19, 2022