Source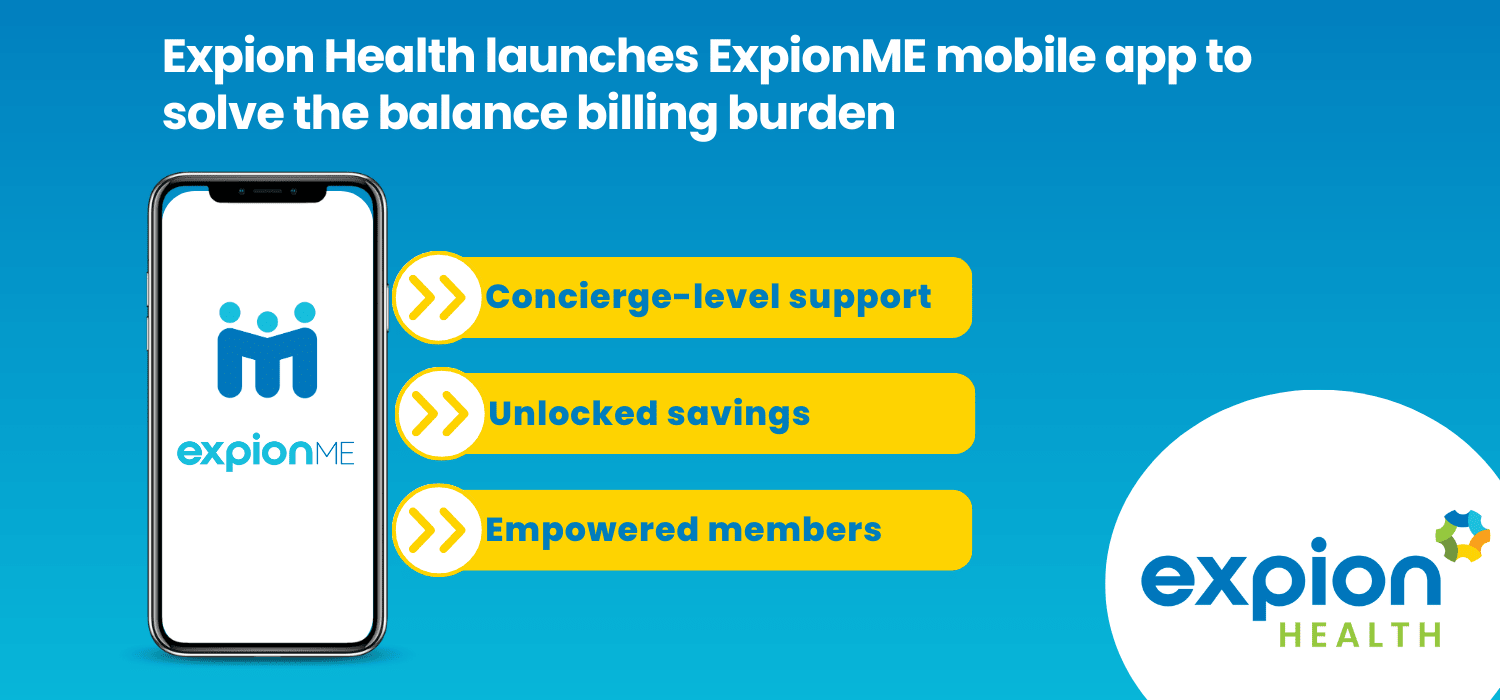 GAITHERSBURG, Md. —
Expion Health, previously known as Exponent Health, has taken a bold step in the advancement of healthcare technology with the launch of its mobile app, ExpionME, and a strategic company-wide rebranding. The introduction of ExpionME, designed to ease the burden of rising healthcare costs for payers and their members starting with balance billing, signifies the company's dedication to placing its platform technology at the heart of the organization. Derived from "exponential" and "pioneer," the name Expion emphasizes the company's commitment to driving exponential value through cutting-edge technology and innovative solutions.
Expion Health's transformative journey began over a year ago with the introduction of the ExpionIQ platform. By incorporating AI-driven technology into its core solutions, Expion Health has significantly enhanced its capabilities and opened up new opportunities for cost optimization. ExpionIQ has set the stage for the development of products that are directly available to payers, beginning with the innovative mobile app, ExpionME.
"I am thrilled to announce our rebranding to Expion Health, which reflects our unwavering commitment to driving innovation beyond industry standards and expectations," said Karin Humphrey, CEO. "With our ExpionIQ platform and new products like ExpionME, we are pushing the boundaries of healthcare technology to help our clients achieve exponential results in improving cost savings. This rebranding allows us to connect our brand identity directly with the core of our business – our platform technology."
ExpionME empowers members to easily navigate their balance billing challenges and access professional support through their mobile devices. Payers benefit from enhanced member satisfaction and new visibility into out-of-network insights for informed decision-making. 
"We understand that balance bills are a significant stress and burden for insurance plan members, and our goal is to provide technology-enabled, concierge-level support to help them understand, manage, and resolve balance bills," said Suresh Kumar, Chief Transformation Officer. "This is just the beginning of how we can revolutionize cost management through solutions built on ExpionIQ, and we have exciting developments in the pipeline to further optimize savings." 
In addition to the launch of ExpionME, Expion Health is rebranding from Exponent Health to better align its corporate identity with its flagship products and solutions. This strategic change creates a cohesive brand across the company, strengthening its recognition in the marketplace and reflecting its commitment to pushing innovation beyond traditional expectations.
"Expion Health's rebranding marks a significant milestone in our company's evolution," said Marina Molenda, VP of Marketing & Communications. "Our new name reflects our focus on exponential growth, innovation, and technology-driven solutions. We are excited to continue our journey as Expion Health and look forward to bringing more innovative products and solutions to market."
Payers interested wanting more about offering the ExpionME app to members can contact Expion Health at (800) 955-9600 or visit the website at www.expionhealth.com.  
###
Expion Health, formerly Exponent Health, is a pioneer in the healthcare technology industry, leveraging 30+ years of experience to drive exponential results for payers, PBMs, and TPAs. With a specialization in identifying savings opportunities where others overlook, the company focuses on high-complexity factors that drive healthcare costs, utilizing the most accurate and up-to-date data available. At the core of Expion Health's innovative solutions is the ExpionIQ platform, which brings together cutting-edge technologies such as artificial intelligence, automation, data, and analytics. ExpionIQ creates powerful solutions for unlocking savings opportunities while ensuring compliance with complex regulations.