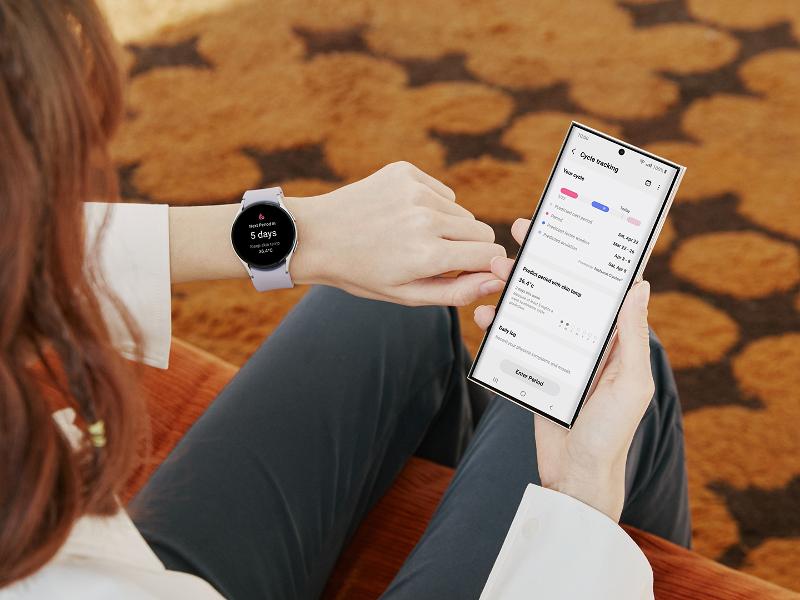 Starting today, Galaxy Watch5 and Galaxy Watch5 Pro users can better track menstrual cycles using the temperature sensor while they sleep
SEOUL, Korea – April 19, 2023 – Samsung Electronics Co., Ltd., today announced that skin temperature measurement1 is added to its existing calendar-based Cycle Tracking feature. Galaxy Watch5 and Galaxy Watch5 Pro users can now conveniently get even deeper insights to manage their menstrual cycles and overall health. Starting today, the new feature will be progressively released via Samsung Health app updates2 in Korea, the US and 30 European markets3.
"Samsung's holistic view of wellness has been further advanced by our sensor innovations, delivering in-depth health insights that empower users," said Hon Pak, Vice President and Head of Digital Health Team, MX Business at Samsung Electronics. "The new infrared temperature sensor on Galaxy Watch5 broadens our whole health offerings, providing more convenient ways to track and understand personal health."
As people search for ways to forecast their next period, they're turning to temperature readings to help, since basal body temperature (BBT) varies by menstrual phase. BBT needs to be measured immediately after waking and prior to any physical activity or impact from surroundings. Getting accurate BBT readings requires measurement the first thing every morning, a process that can be inconvenient and sometimes even forgotten. Samsung's new feature automates this process, making it easier and more convenient.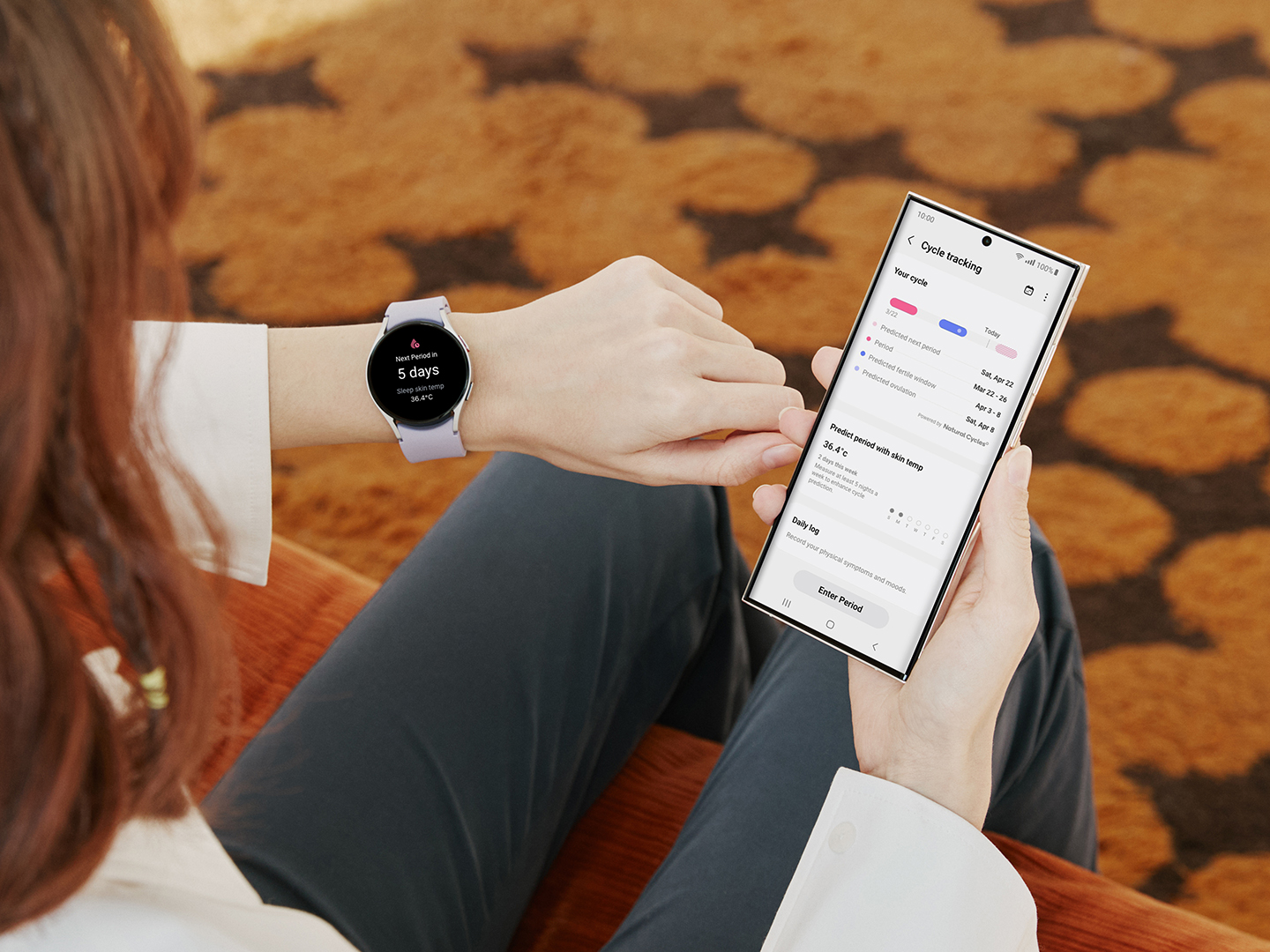 The Cycle Tracking feature is powered by Natural Cycles. Integrated with Samsung's sensor technology, it enables users to track skin temperature changes, a good estimate of basal body temperature, during sleep right from their wrist. Galaxy Watch5 series uses infrared technology for more accurate readings, even if conditions of surroundings change. The advanced Cycle Tracking helps users track ovulation and better predict when their next period will begin.
To activate, users select Cycle Tracking in the Samsung Health app, add their most recent cycle information into the calendar, and then turn on 'Predict period with skin temp' in the settings. Readings collected over the prior month are displayed as a graph in Cycle Tracking, showing users their period as well as their predicted ovulation and fertile window. All collected data is encrypted and stored securely on the user's own device, giving them more control over their data.
Cycle Tracking also evaluates symptoms entered into the daily log and provides relevant information and tips based on them, such as scheduling a day to relax to address fatigue or exercising gently to relieve premenstrual pelvic pain. In addition, Samsung Health app4 suggests useful content to help better manage holistic health during cycles, such as guided stretching or meditation classes to reduce stress and achieve a better night's sleep — a key to a healthier self.
To learn more about the Galaxy Watch5 and Galaxy Watch5 Pro please visit:
Galaxy Watch5: www.samsung.com/galaxy-watch5
Galaxy Watch5 Pro: www.samsung.com/galaxy-watch5-pro
About Samsung Electronics Co., Ltd.
Samsung inspires the world and shapes the future with transformative ideas and technologies. The company is redefining the worlds of TVs, smartphones, wearable devices, tablets, digital appliances, network systems, and memory, system LSI, foundry and LED solutions. For the latest news, please visit the Samsung Newsroom at news.samsung.com.
1 Due to country restrictions in obtaining approval/registration as a medical device, the feature only works on phones and watches purchased in the countries where service is currently available. Not intended for contraception. If you are currently taking hormonal birth control or undergoing hormonal treatment that inhibits ovulation, this service will not be useful for tracking ovulation. Predictions may vary depending on the proper use of your watch, input data, environmental conditions, etc. Intended for users 18 years old and above. Users should not interpret or take clinical action based on the predictions made without consultation of a qualified healthcare professional.
2 Require app updates on both Galaxy Watch5 and the paired smartphone. Availability may vary by market, carrier and model.
3 Austria, Belgium, Bulgaria, Croatia, Cyprus, the Czech Republic, Denmark, Estonia, Finland, France, Germany, Greece, Hungary, Iceland, Ireland, Italy, Latvia, Lithuania, Luxembourg, the Netherlands, Norway, Poland, Portugal, Romania, Slovakia, Slovenia, Spain, Sweden, Switzerland and the U.K.
4 Availability may vary by market and device.