Source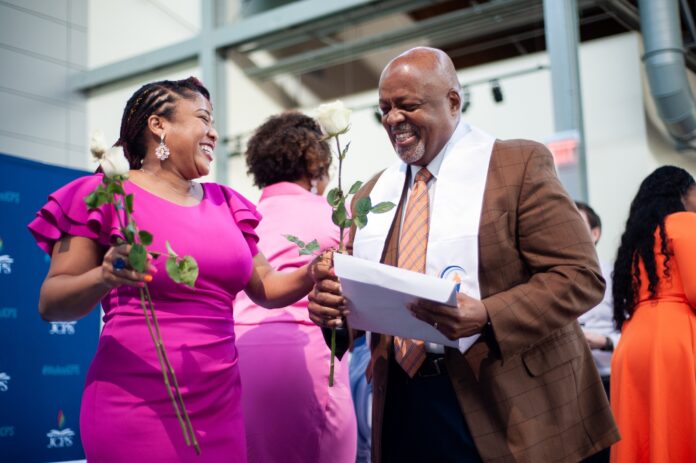 Candice Hardin, Louisville Teacher Residency (LTR) coach at JCPS, hands a rose to LTR graduate Donald Morehead at the graduation celebration on May 18 (photo courtesy JCPS)
More than 30 new University of Louisville-trained teachers will be assigned to high-needs schools in the Jefferson County Public Schools (JCPS) system after completing a unique, one-year training program.
The teachers received their master's degrees this month from UofL after completing the Louisville Teacher Residency (LTR) program, which is designed to increase the pool of diverse, highly skilled teachers in low-performing urban schools.
The program, the first of its kind in Kentucky, offers college graduates who did not major in education the opportunity to obtain a master's degree and teaching certification in one year. In exchange, they commit to teach in a high-needs JCPS school.
"UofL is deeply grateful for our partnership with Jefferson County Public Schools to implement a teacher residency program that recruits, retains and elevates future educators," said Amy Lingo, interim dean of the College of Education and Human Development (CEHD).
The 2023-24 LTR program begins in June, with a class of up to 50 residents. During the residency year, participants spend four days a week in the classroom alongside JCPS master teachers. During the summer and on Fridays, the residents will attend classes at UofL, and complete coursework co-designed by JCPS and the university. Participants will earn $30,000 plus benefits from JCPS during their residency then commit to work for five years in an Accelerated Improvement School (AIS) within JCPS.
Class Act Credit Union committed up to $300,000 for scholarships and programming for the first three years of LTR and has committed to the same funding for another three years.
Individuals interested in applying for the LTR program should visit the JCPS website. Candidates must have a bachelor's degree and at least a 2.75 GPA. Participants need not be a minority to apply, though the district is prioritizing candidates in high-needs areas, including minority representation and math and science teachers.